Namaste Ji
Thought of the week
''O Mother Earth, enrich me with the wisdom so that I should not damage or degrade you, wherever, I dig out, should quickly be regenerated and covered with greenery'' - Rabindranath Tagore
Ye Bhi Khoob Kahi
If you broke your arm
First-aid teacher: What would you do if you broke your arm in two places? Ghantu: I will never go to either place again!
On Honeymoon Trip
Ghantu went alone on his honeymoon. Because he didn't believe in sleeping with a married woman.

Tumhare Bharose (In Hindi)
Ghantu apni biwi se kahta hai, maine ladka manga tha, ladki kaise ho gayi? Biwi kahti hai tumhare bharose rahti to ye bhi nahi hoti..!

Why Ghantu is Unhappy
Ghantu unhappy on the birth of the twins ! WHY ? ?; becouse he is worried that "who is the father of the other child".

Ghantu in Library
Ghantu walks into a library and says: Can I have a burger? Librarian: Sorry, this is a library. Ghantu whispers: Can I have a burger please?

Wallpaper of the week


Source: http://www.santabanta.com

(Click image to download)


Have a Nice Week





Sharab Ek Bimari hai


Sharab Ek Bimari hai jo pure samaj ko khatam kar deti hai. To aao milkar is bimari ko khatam karen. Ek bottle tum khatam karo ek bottle hum khatam karen.


Whisky is a disease which spoils the entire society. So lets cure this disease. You finish one bottle and I will finish one.






A real hurry


Ghuntu rushes into a bar, orders four expensive thirty-year- old single malts and has the bartender line them up in front of him. Then, without pausing, he downs each one. "Whew," the bartender remarks, "you seem to be in a hurry." "You would be, too, if you had what I have." "What do you have?" the bartender sympathetically asks.

"Fifty cents."




Ghantu to a girlfriend
Ghantu to a girlfriend: Darling, am I the first man you ever kissed? Girl: Of course, you are. But, why do all men ask the same silly question?




Ghantu in a Museum

Museum administrator: That was a 500 year old statue that you have broken. Ghantu: Thank God! I thought it was a new one.




Ghantu's wish...
When I die, I want to die like my grand father who died peacefuly in his sleep not screaming like all the passengers in the car he was driving.




January 5th 2009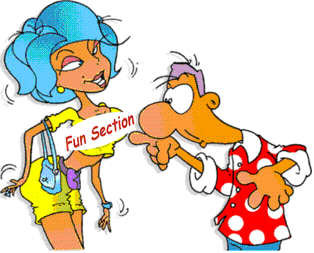 Ghantu - the brave man
Ghantu with lot of difficulty managed to enter into the train, which was very crowded. One of the passengers said really you are a brave man you managed to catch the train. Ghantu : what brave I came to send off one of my friend who is left on the plate form.

The Dentist
A old lady one day went to a dentist. The lady was suffering from a tooth infection. She explained her problem to the dentist and requested him to do something immediately. The dentist took her to the operation theater and asked her to sit on the chair and open her mouth. The lady, since she was suffering from the pain, managed to open her mouth slightly. Dentist said to the lady slightly more open your mouth. The lady tried and open her mouth slightly more. Again dentist said madam please open slightly more…….three four times it continues. The lady finally got upset and shouted at the dentist are you planning to sit in my mouth to remove my teeth.





Please send your comments for
'FUNSECTION'
at
tkraghuvanshi@gmail.com

You may also contribute some funny stuff for funsection. Your contribution will be acknowledged with your name and picture.
It may be some funny article, joke or cartoon which is funny.

Dear Readers,
Hope you are enjoing FUN SECTION. I would like to have your comments for this section. Your comments are very valuable for further improvement of this section.
Tarun K.Raghuvanshi