Invited Article

Remote Sensing for Mapping Applications

Dr. K. V. Suryabhagavan
Assistant Professor in
Remote Sensing and GIS
Department of Earthsciences,
Faculty of Science,
Addis Ababa University
Remote sensing is the observation of an object from a distance. Examples are Aerial Photography and the use of satellites to observe the earth. Remote sensing Systems offer four basic components to measure and record data about an area of distance. These components include the energy source, the transmission path, the target and the satellite sensor. The digital data acquired by the satellites is transmitted to ground stations and can be used to reconstitute an image of the Earth's surface. At Present Ikonas, Quickbird, Tes, Cartosat are high resolution satellites. Remotely sensed data acquired by the above earth observation satellites provides a number of benefits for studying the Earth's surface, including.
continuous acquition of data
regular revisit capabilities (resulting in up-to-date information)
broad regional coverage
good spectral resolution (including infra-red bands)
good spatial resolution
ability to combine satellite digital data with other digital data
cost effective data
map-accurate data
possibility of stereo viewing
large archive of historical data
Data is provided to the users as hard copy photographic data products, or as digital data products which can be viewed and manipulated on a variety of software systems. Satellite data is used to provide timely and detailed information about the Earth's surface, especially in relation to the management of our renewable and non-renewable resources.

Some examples of uses of satellite data are:
assessment and monitoring of vegetation types and their status
soil surveys
mineral exploration
map making and revision
production of thematic maps
water resources planning and monitoring
urban planning
agricultural property management planning
crop yield assessment
natural disaster assessment.
Mapping with IKONOS in relation to aerial orthoimage
IKONOS pan -1m pixel (Source: US Geological Survey)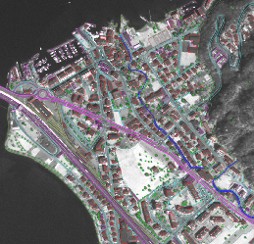 Orthoimage 0.3m pixel (Source: US Geological Survey)

The next generation satellites would provide high resolution data. That high resolution images coupled with digital photogrametry for ortho-rectification and GIS contribute to generate large scale maps at good accuracy. The same can be used in upgrading existing maps.

References

Remote Sensing and Image Interpretation by Lillisand, T.M. and Kiefer T.W., Jhon Wiley. 1999.

National Remote sensing agency, India

US Geological Survey