One day Ghantu goes to a bank for withdrawing cash of Rs.25,000. Lady cashier asks in Hindi. 'So So Ke Loge?' Ghantu: 'Khade Khade Bhi chalega!'
..tere baap ne parh liya mera love letter; ..Philips, lets make things better.......

...ek tusi itrate vi bohat ho; ek tusi sharmate vi bohat ho; dil to kerta hai tenu DINNER te le jawan; kambakhat tusi khate vi bohat ho.

Ghantu car ki battery change karwane gaya... Mechanic - Sahab, EXIDE ki daal doon ? Ghantu - Nahin yaar, dono side ki daal de, warna phir problem hogi.

Girl asks Ghantu "Will you marry me?" Ghantu says "No. In our family we only marry relatives - mom married dad, bhaiya married bhabi, taya married tayi...!!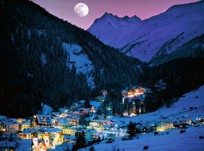 St. Anton at Arlberg Tirol, Austria Super Stock Inc.
(Click image to download)
Thought of the week…
Happiness does'nt come from external things it's within you, so explore it. Those who find it will always be happy.

Mrs Ghantu on a phone line

One day Mrs Ghantu kept the phone after 25 minutes inspite of her habit of long chats. Whats the matter today? asked Ghantu. Mrs Ghantu: 'I got wrong number.'

Due to some unavoidable circumstances FUNSECTION is not updated today i.e Oct. 27th 2008. It will be updated shortly. I regret inconvenience on this account.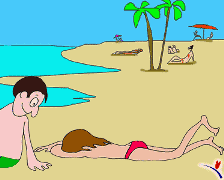 Whatever shines is not always gold.
Ghantu enters a store that sell curtains.....

Ghantu enters a store that sell curtains.
He tells the salesman, "I would like to buy a pair of pink curtains."
The salesman assured him that they had a large selection of pink curtains. He showed him several patterns, but Ghantu seemed to be having a hard time choosing.
Finally, he selects a lovely pink floral print.
The salesman asked what size curtains he needed.
Ghantu replies, "Fifteen inches."
"Fifteen inches?" asked the salesman. "That sounds very small, what room are they for?"
Ghantu tells him that they aren't for a room, they are for his computer monitor.
The surprised salesman replies, "But, sir, computers do not have curtains!"
Ghantu says, "Hellllooo........I' ve got Windows!"


Ghantu went for Interview



Ghantu on an interview for the post of detective was asked a question - Interviewer - Who killed Mahatma Gandhi ? Ghantu - Thanks for giving me the job, I will investigate.


Upset Ghantu...who's the Father

Ghantu came home from a secret two year mission only to find his wife, Meeto, with a new born baby. Furious, he was determined to track down the father to extract revenge.

"Was it my friend Bhantu", he demanded.
"No !" his weeping wife replied.
"Was it my friend Lalan then?" he asked.
"No !!!" she said even more upset.
"Well which one of my no good friends did this then?" he asked.
"Don't you think I have any friends of my own?" Meeto snapped.


Ghantu a Proud Father.....

Ghantu "i'm a proud father, my son is in medical college" Bhantu "Really! What is he studying?" Ghantu "he is not studying. THEY ARE STUDYING HIM.

Ghantu and Bhantu on Island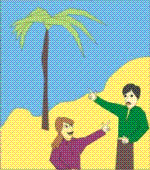 Ghantu and Bhantu fly to the south sea islands to study the natives. They go to two adjacent islands and set to work. A few months later Ghantu takes a boat over to the other island to see how Bhantu is doing. When he gets there, he finds Bhantu standing among a group of natives.
"Greetings! How is it going?" says Ghantu.
"Wonderful!" says Bhantu, "I have discovered an important fact about the local language! Watch!"
He points at a palm tree and says, "What is that?"
The natives, in unison, say, "Umbalo-gong!"
He then points at a rock and says, "And that?"
The natives again intone, "Umbalo-gong!"
"You see!", says the beaming Bhantu, "They use the SAME word for 'rock' and for 'palm tree'!"
"That is truly amazing!" says the astonished Ghantu, "On the other island, the same word means 'index finger'!"
I need to know how...

Stalking into a police station late one night, a man demands to speak to the burglar who broke into his home. "Sorry,that's against the rule," says the desk sergeant."You didn't get it," says the man."I need to know how he got in without waking my wife."


You may also participate in
FUNSECTION
by sending some funny item.

Please send your comments for




'

FUNSECTION'


at tkraghuvanshi@gmail.com
You may also contribute some funny stuff for funsection. Your contribution will be acknowledged with your name and picture.

It may be some funny article, joke, cartoon or any thing which is funny.