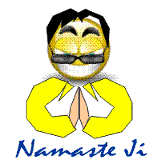 Thought of the week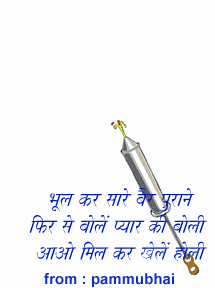 Ye Bhi Khoob Kahi...
Ham tere pyar me had se gujar gaye…Ham tere pyar main had se gujar gaye… to toah hamari ho na sake tere saheli ke ham ho gaye.

Nadi ka kinara tha, Nadi ka kinara tha julfo ka saya tha paas jake dekha to sardar naha raha tha.

Hamne tum se pyar kiya abla samaj ke tere baap ne ham ko peeta tabla samaj ke.
Three can manage
One day Shanti, the servant, came in shouting madam madam madam… Madam said yes what happen why are you shouting. Shanti said look madam out side three ladies are beating your mother-in-law very badly. Oh! madam came out on the terrace and saw the three ladies beating her mother-in-law. Shanti said, madam why don't you go and help…. No Shanti I thing those three can manage with that they don't need the fourth one to join…..

No More Twins Please
Ghantu had twins; he named them Tin Martin.
Again had twins, he named them Peter & Repeater.
Again got twins this time named Max & Climax.
Again the same, disgusted Gantu named them TIRED & RETIRED!



Have a Nice Day!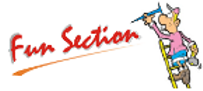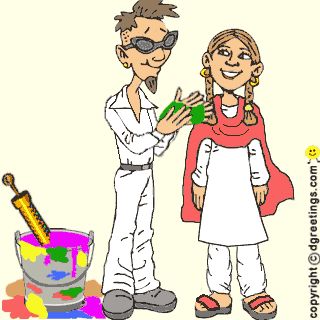 Funny Advertisement and Notice
New aerobics Center: Workout your fat at our centre, no food restrictions, eat anything and melt your fat with our experienced instructors.

For sale: an antique desk suitable for lady with thick legs and large drawers.

A dry-cleaning advertisement: We do not tear your clothing with machinery. We do it carefully by hand.

An advertisement: Sheer stockings. Designed for fancy dress, but so serviceable that lots of women wear nothing else.

An advertisement for Used Cars: Why go elsewhere to be cheated? Come here first!

An advertisement for a nursery: For those of you who have children and don't know it, we have a nursery downstairs.

A Social Notice: Tuesday at 4:00 PM there will be an ice cream social. All ladies giving milk will please come early.

An advertisement for a restaurant: "Open seven days a week and weekends."

A sign in front of an advertising agency: "A BUSINESS WITH NO SIGN IS A SIGN OF NO BUSINESS"

A Notice In a maternity ward: "No children allowed."

An advertisement for a superstore: "Why go elsewhere and be cheated when you can come here?"

A Notice for change of address of barbershop from ground floor to first floor: Now we are cutting underneath hairs upstairs.

An advertisement in a restaurant: ''Hot roasted chicken $ 20, Fresh Fish roasted $ 15, child below 5 years served free''.
Paani mein Whiskey milao ta nasha chadta hai. Paani mein Rum milao to nasha chadta hai. Paani mein Brandy milao to nasha chadta hai. Saala paani mein hi kuch gadbad hai.(In Hindi)

March 9th 2009








No Problem
Once Ghantu was visiting a museum in Germany. The guide was explaining various items kept in the museum to Ghantu. Ghantu saw one chair kept in the corner of the hall he went to it and sit on it. Guide : Sir you can not sit on that chair this is Albert Einstein's chair. Ghantu : no problem I will leave this chair when he will come.





Ghantu - the brave man
Ghantu with lot of difficulty managed to enter into the train, which was very crowded. One of the passengers said really you are a brave man you managed to catch the train. Ghantu : what brave I came to send off one of my friend who is left on the plate form.




The Last Compartment
Once Ghantu with his other friends were travelling in a train and their compartment was the last.The train was heading to Darjeeling (a beautiful Himalayan hill station) and was moving up the hill. Suddenly, Ghantu realised that the train has started moving in the reverse direction. He peeped out the window and started shouting O A our compartment is detached from the train. Ghantu and his friends some how managed to get out of the compartment and walked for about 4-5 kms to reach a railway station. Ghantu started shouting and abusing the railways. In the mean time the station master came and asked Ghantu to give his complaint in writing. Ghatu in his complaint wrote like this 'The Railways must take proper precautions particularly for the last compartment of the train…. In future please do not attach the last compartment in the train… if it is really essential it must be attached in the middle of the train…..



What's the diffrence between Dava & Daru?
Dava is like girlfriend, that comes with expiry date and Daru is like wife, Jitni purani hogi utna sir chad ke bolegi.







Please send your comments for
'FUNSECTION'
at
tkraghuvanshi@gmail.com





You may also contribute some funny stuff for funsection. Your contribution will be acknowledged with your name and picture.
It may be some funny article, joke or cartoon which is funny.




Source of Jokes: http://www.apunkachoice.com



Dear Readers,
Hope you are enjoing FUN SECTION. I would like to have your comments for this section. Your comments are very valuable for further improvement of this section.
Tarun K.Raghuvanshi