Hi tech Shayari......
(In Hindi)
Main Jab miss call doen to chali aana. Main Jab miss call doen to chali aana.Please phone mat uthana ek call lag jaegi. Agar aa na sako to bas itna karma Mere number par do miss call kar dena. Agar tum muj se kafa ho to bas itna na karna Apne yaar ko mere mobile par SMS mat karna.
Ham tere dar par sanam bar bar aayege. Computer virus ki tareh tere dil me ghus jayenge. Tum lakh jatan karo hum se na bach paoge Apne dil ki har file main ham ko hi paoge.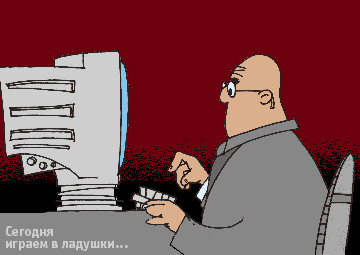 I saved Rs.2.00……
One day in the evening santa came back from his office and called her wife Gurmeet. O A Gurmeetay today I have saved Rs 2.00…..oh I am so happy. Gurmeet asked how. Santa said today right from my office I ran behind a bus upto my home. If I have taken that bus I was supposed to pay Rs 2.00 as ticket charges. That is how I saved the money….am I intelligent. Gurrrrrr……Gurmeet, his wife shouted at him and slapped him right on his face……you are a big fool why you ran behind a bus, if you have followed a taxi you would have saved at least Rs.50.

It's for Fun.......Read it n'enjoy........
Santa: Doctor help me please, Main jab baat karta huin to mujhe sirf awaaz sunaye deti hai, aadmin nahi dikta.
Dr. Aaisa kab hota hai?
Santa : Phone karte waqt.
(In Hindi)

What is the chemical formula for water?
Santa : HIJKLMNO.
Teacher: What r u talking about?
Santa : Yesterday u said H to O.

Santa Zebra crossing ke black & white pattern par bar bar idhar-udhar chalet the, woh kya kar rahe honge……think ….." SALA YE PIANO BAJTA KYO NAHI".
(In Hindi)

Santa goes to a hotel & after eating he goes to wash his hands, but start washing the baisn. MANAGER: What are you doing?
Santa : You have written here "WASH BASIN".
(In Hindi)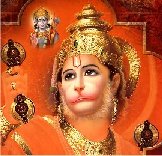 Wall Paper of Hanuman Ji from www.Santabanta.com (click on the image to view the full poster)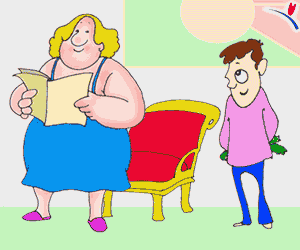 The Dentist........
A old lady one day went to a dentist. The lady was suffering from a tooth infection. She explained her problem to the dentist and requested him to do something immediately. The dentist took her to the operation theater and asked her to sit on the chair and open her mouth. The lady, since she was suffering from the pain, managed to open her mouth slightly. Dentist said to the lady slightly more open your mouth. The lady tried and open her mouth slightly more. Again dentist said madam please open slightly more…….three four times it continues. The lady finally got upset and shouted at the dentist are you planning to sit in my mouth to remove my teeth.
I am in hurry……
One day a lady with her husband went to a dentist and asked the Doctor, is it possible to remove the infected teeth without applying any chloroform. Doctor said yes it is possible but it may be very painful. The lady said no problem I am in hurry so please make it fast without using chloroform. The doctor was surprised and he appreciated and asked the lady you are very brave, ok let me do it open mouth. Listening to this the lady turned towards her husband and shouted what for you are sitting silently why don't you open your mouth immediately…..don't you know that I am in hurry.